"Make Checkly one of the best employers in our industry."
Oof… Quite a big goal to get as the first email after signing my contract with Checkly last year. But I do love a good challenge!
With this goal in mind, I joined Checkly and 10 months later, Checkly won the "The Leading Remote-First Company" award at the Running Remote conference. To say that that was a proud moment would be a major understatement.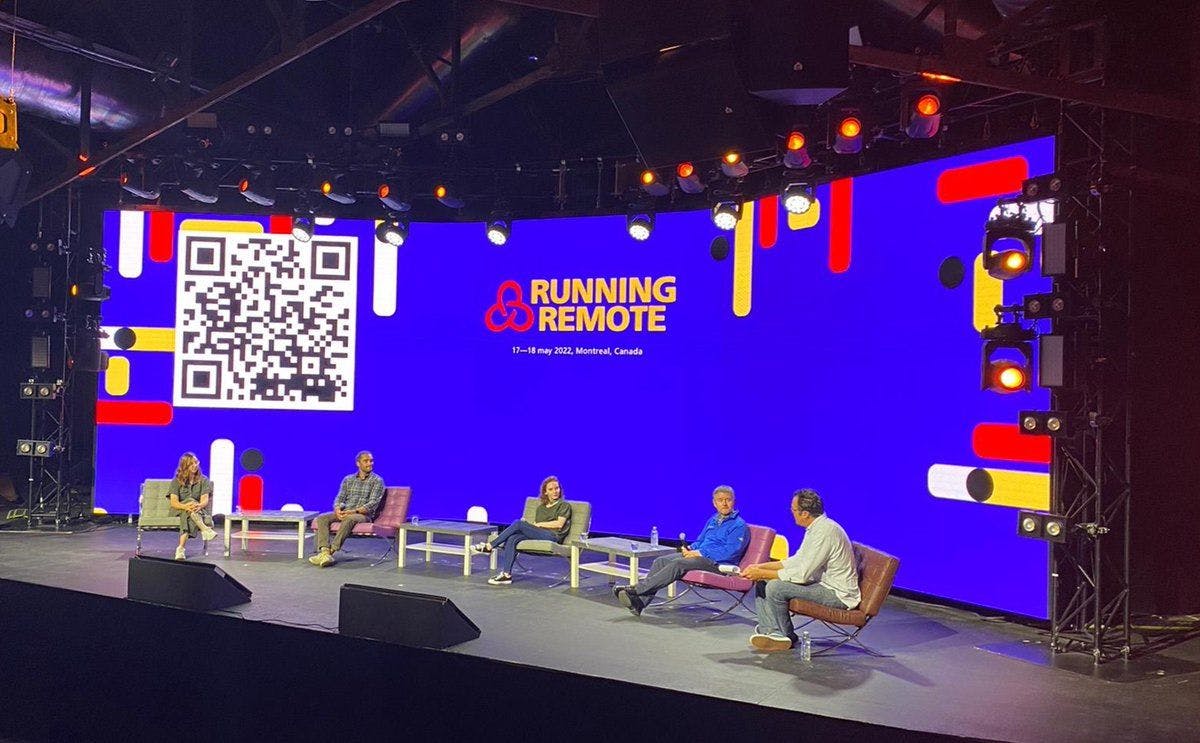 In the spirit of transparency, I'll share with you what it took for us to become the leading remote-first company.
Workplace arrangement and policies around work-from-home
100% of our team works remotely. Everyone can work from wherever they're happiest and most productive.
While we try to be as asynchronous as possible, we do feel we still need some synchronicity to collaborate well. We focus most of our hiring within GMT+/-3 timezones to make this possible without having to ask team members to work very early or late hours.
A couple of policies help us achieve a remote setup that works for us:
Core working hours from 12 pm until 4 pm CET.
A one-time infrastructure budget to buy a laptop and other home office equipment.
Co-working budget for anyone who wants to rent a desk somewhere. (We have a tiny office in Berlin that people can use if they want to, which happens rarely.)
Remote strategy for the upcoming two years
Remain fully remote, whether that's work from home, a co-working space, a cafe or from different locations.
Become even better at asynchronous collaboration so that we can expand the time zones we focus on while hiring, and partially or completely get rid of our core working hours.
Assessing the effectiveness of remote work
We've got 3 main methods to assess the effectiveness of our remote setup:
The Employee Net Promoter Score (eNPS) survey is done every four to six months. This survey also includes a qualitative question regarding the score the team members give so that we understand what challenges we have to prioritize as an organization.
We set company goals at the beginning of the year and track our progress against those goals on a monthly basis. Our progress against these goals helps us focus or redirect our attention where needed.
We check in with people in multiple ways through 1:1s, onboarding check-ins, catch-ups, conversations on Slack, Donuts, etc. This helps us get a continuous pulse on what's working well and what needs adjusting.
Structured collaboration and communication
Transparency is the main theme in how we structure our collaboration and communication. It helps us work more asynchronously, faster, and more independently, i.e. context, decisions, policies, questions, and answers are all easier to find back and help us move forward.
Transparent documentation in Notion (our collaboration tool/wiki) on processes, guidelines, decisions, etc. This helps us work handbook-first.
Async collaboration and transparent project management through tools such as Shortcut, GitHub, and Figma. Everyone in the team should be able to find info about and the status of different projects that are being worked on.
"Whenever possible written communication." (quote from our Employee Handbook)
Transparent-by-default communication: "Non-sensitive communication happens in public Slack channels and team meetings: Not in private 1:1 conversations or DM's." (quote from our Employee Handbook)
Company-wide weekly sync kick-off calls to talk about what happened the week before and what we'll be focusing on that week. The full agenda and the recording of the session are always available on Notion in case anyone misses the call.
Daily async standups in Slack to promote transparency, help unblock team members and encourage everyone to start their day with intention.
Core working hours where we expect team members to be responsive and available for collaboration. If they're not available during these core working hours, we expect them to communicate that. Outside of the core working hours, our team members can decide when they work. We're not as async as e.g. GitLab, but we think we've achieved a balance that works really well for us so far and want to become better at supporting even more async work.
Onboarding
Our onboarding process is remote by default.
Before the first day, there are a couple of things to take care of to make sure the new joiner feels welcome and has everything they need to get started. This includes:
Email to officially welcome the team member and let them know what they can expect from us before their start date once the contract is signed.
4 weeks before the first day we follow up to arrange a laptop and get them some swag.
2 weeks before the first day we follow up again with an email with info about their first day, manager, onboarding buddy, and FAQs. Simultaneously we start working on their "Welcome Aboard" Notion page with important info, links, expectations, and tasks for their first 4 weeks.
1 week before the first day it's time to prepare IT onboarding, schedule welcome sessions and make sure the "Welcome Aboard" Notion page is ready for our new joiner.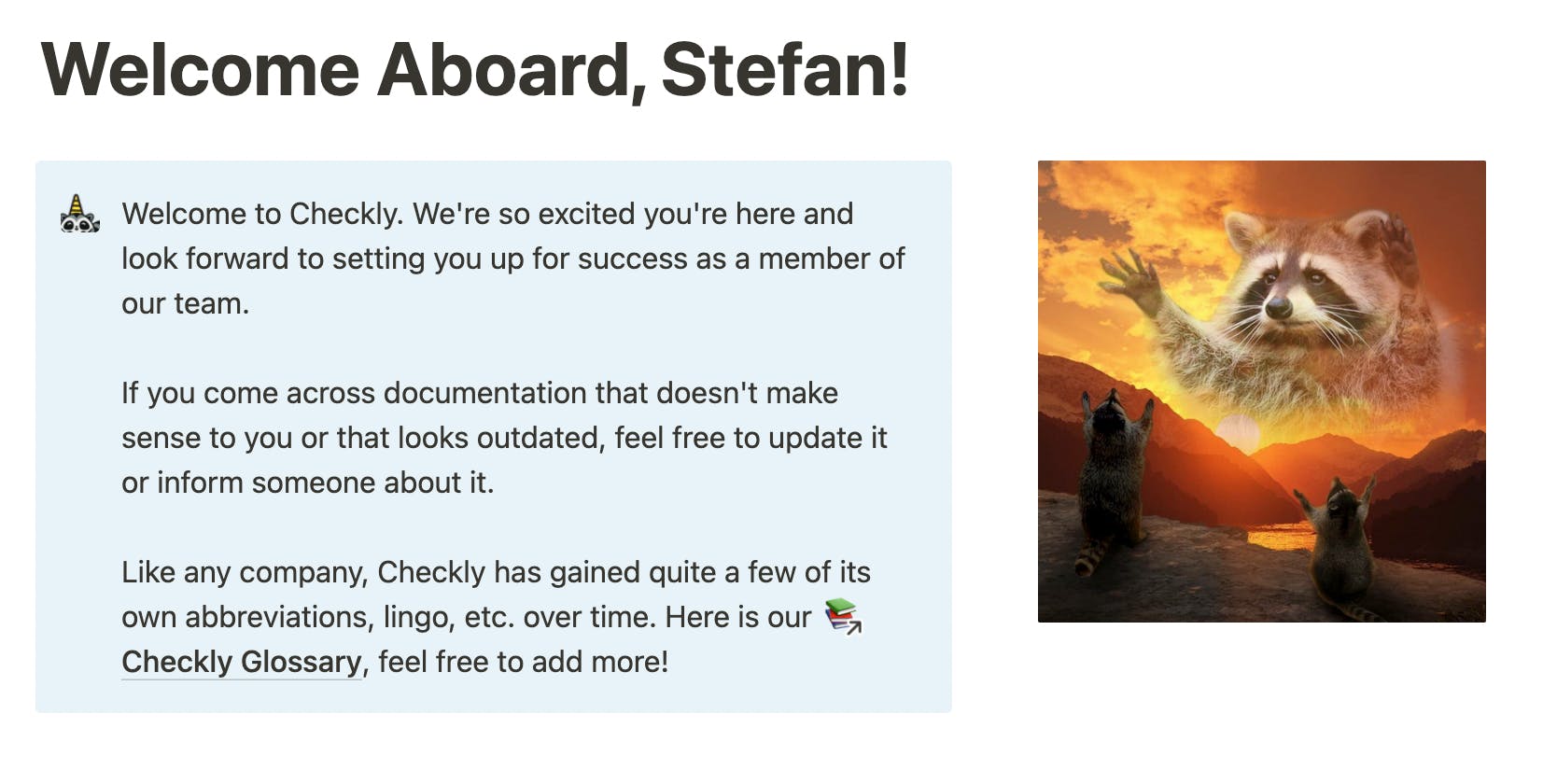 On the first day, we make sure to give the new joiner a warm welcome and a good overview of expectations. This includes:
Finalizing IT onboarding, making sure the new joiner has access to all they need! We avoid giving early access as the temptation to start onboarding yourself before your first day can be big. We do not want to set an expectation that new joiners should be (partially) onboarded by the time they start.
A warm welcome in Slack with lots of emojis paired with an intro in our #welcome-to-checkly Slack channel, where their Welcome Aboard Notion page is shared with them. The #welcome-to-checkly Slack channel is also where they are encouraged to start asking questions in public channels.
Fun introduction in our weekly kick-off call with a "2 truths and 1 lie" and game.
A couple of welcome sessions to meet the manager, onboarding buddy, People Ops and our CTO. The CTO does a walkthrough of vision, values, company focus, and history with each of our new joiners.
After the first day, the work doesn't stop! We are committed to continuously working with our new joiners to guide them in the right direction. On top of that, we also want feedback from them to keep improving our processes.
1 week after the first day, all new joiners are asked to fill out an onboarding satisfaction survey. We use this survey as a way to figure out if they're stuck anywhere and also to iterate on our onboarding process.
In their 3rd week, all new joiners start a Checkly training where they are challenged to use our product and present the results to the team.
Within their first 3 months, all new joiners join a feedback workshop where we focus on the expectations that they participate in our continuous feedback culture, how to give constructive feedback and how to receive feedback in a way that won't stop others from giving more feedback in the future.
At 1, 2, 3, and 6 months after the start date, we do onboarding check-ins with all new joiners. The 1 and 2 months onboarding check-ins are a very informal conversation between the new joiner and People Ops to get feedback on how things are, what's going well and what challenges they're facing. The 3 and 6 months onboarding check-ins are together with the manager and People Ops and include a 360-degree feedback process.
Career development and training
Our most obvious benefit is the $1,000 learning & visiting budget per person per year for developing our team members. This budget can be spent on books, conferences, courses, apps, etc to increase people's effectiveness at work or discover their potential (e.g. if they're considering moving into a people management role). Team members don't have to take a vacation to use this budget, as learning is part of working time, too! This budget can also be spent on visiting colleagues and working alongside them.
On top of that, we all have regular 1:1s with our manager. This can be anywhere between weekly to monthly depending on the needs of the team member. The goal of these 1:1s is to discuss career, learning, challenges, wins, etc.
We also connect team members to experts on topics where they're looking to grow or where they might be stuck. These experts can be both from within or outside of the Checkly team.
Employee involvement in the decision-making process
Transparency and asynchronicity stand front and center here to make sure that team members know what's going on and have the opportunity to let their voices be heard even if they're not directly involved with the topic. Here are a couple of quotes straight from our Employee Handbook's communication expectations:
"Whenever possible written communication: (1) Make sure meeting notes are documented in Notion. (2) Larger initiatives and meetings should be specced in Notion. It's your responsibility to share this document upfront at meetings and make sure your coworkers have access to it.
"Non-sensitive communication happens in public Slack channels and team meetings: Not in private 1:1 conversations or DM's."
"Team meetings are open to anyone in the team: People can join meetings from other teams and are invited to, e.g. engineers might be interested in how our sales pipeline works."
Additionally to these communication expectations, we've got some more rituals and best practices we adhere to:
Our weekly kick-off meeting's agenda is documented in Notion and it includes work that is done, in progress, and also future work. Our company KPIs are also tracked and announced in the agenda and meeting each month.
Daily async stand-ups by the whole team so people know what is being worked on.
Culture of ownership: we want and encourage people to make decisions in their field of expertise.
Rewards and recognition
To foster a healthy feedback culture we've set up the following:
A feedback workshop for everyone who joins the company to set clear expectations for our feedback culture. This workshop covers the importance of feedback, how to give constructive feedback, and how to receive feedback in a way that encourages others to give feedback to you again in the future.
The #praise Slack channel for public praise both from team members and from customers. By having a channel solely dedicated to praise and recognition, we aim to remind everyone regularly how important it is to praise each other.
The best practice of reminding each other to actually praise the person they're raving about to other people. It often occurs that person A will tell person B something great about person C, without person C knowing how amazing it is what they're doing. We're building a habit out of person B reminding person A that they should give their feedback directly to person C as well.
Small "ceremony" at our retreats where each of our co-founders recognizes one person in the team.
Gender equality and diversity
We had a lot of work to do when it came to gender equality and diversity in 2021. Our first female team member joined a team of 12 men in July 2021. Since then we've made a lot of progress.
We started tracking gender diversity in the team (from 0% in June 2021 to 27% now) and also made improvements in the interview process such as checking job ads against gendered words, a very critical eye on the requirements written in the job ad, a diversity and inclusion statement in each job ad, etc.

In 2021, we introduced our very own pay calculator, an inclusive paid parental leave policy and we also started tracking and documenting gender diversity in the team for the first time. The goal of our transparent pay calculator is to have fair and equitable pay and take a lot of bias and subjectivity out of pay decisions.
With our paid parental leave policy, we now provide 14 weeks of paid leave for birth parents, second parents, and adoptive parents.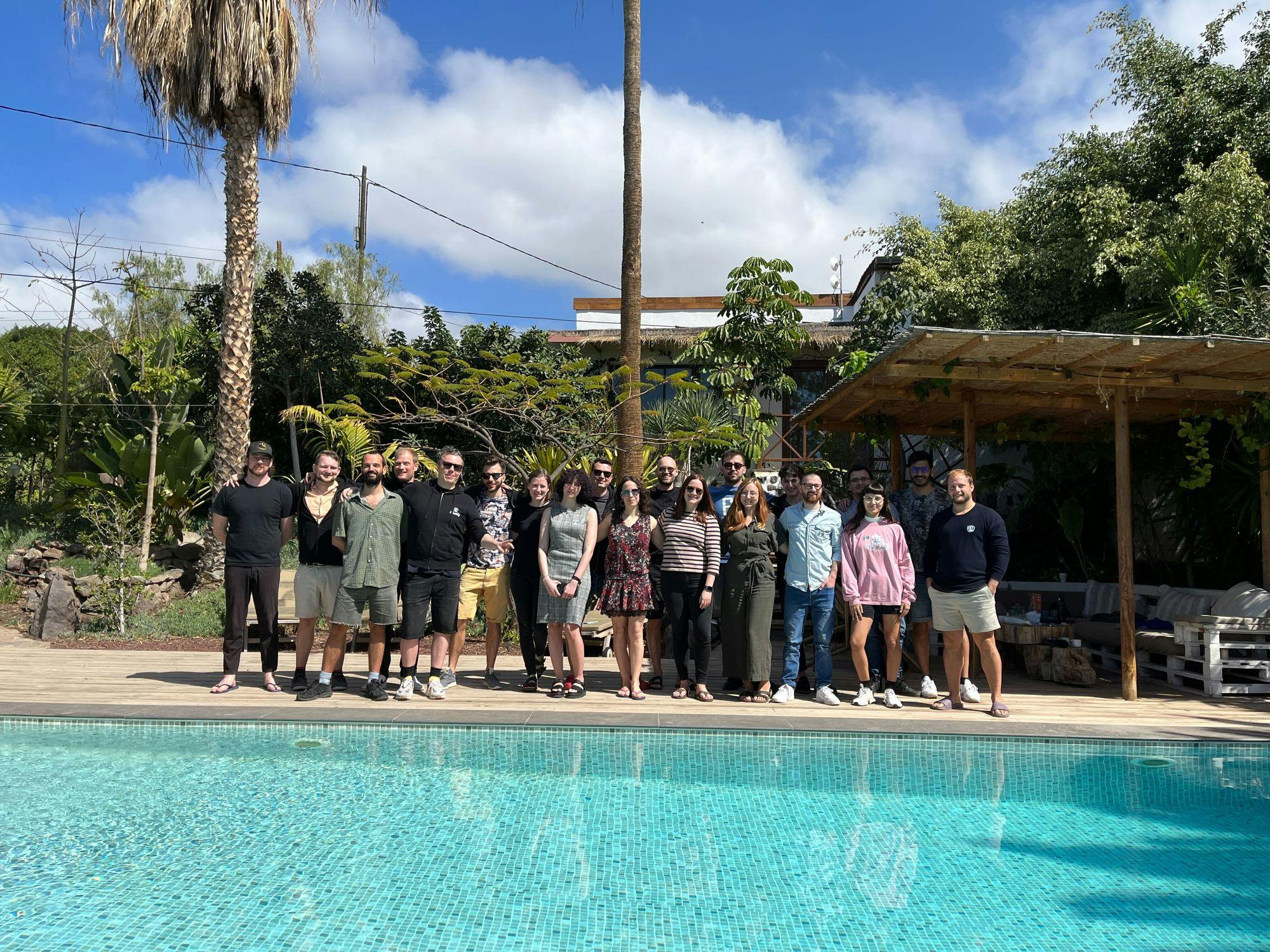 Foster social cohesion and a sense of belonging
We set clear expectations by including being intentional about getting to know your colleagues in onboarding. Especially in a remote environment, we find it's important to emphasize this from day one.
When someone joins Checkly, they have an onboarding buddy assigned to them, who will help welcome them, guide them in the right direction, help answer questions and check in with them on a regular basis.
On their first day, welcome sessions are set up so that the new joiner meets their onboarding buddy, their manager, and our CTO or CEO.
Additionally, they are also asked to set up at least six 1:1s with colleagues that they haven't met yet in their first week.
While we set the base during onboarding, we have the following practices in place to make sure we continue to foster social cohesion and a sense of belonging:
The Donut Slackbot is set up to pair us randomly every 2 weeks for a 30 min call. It's easy to forget to schedule catch-ups with colleagues, so we gave that responsibility to Donut instead.
There are multiple Slack channels to talk about non-work topics and encourage the team to interact with colleagues there, share pictures of their pets, music recommendations, etc.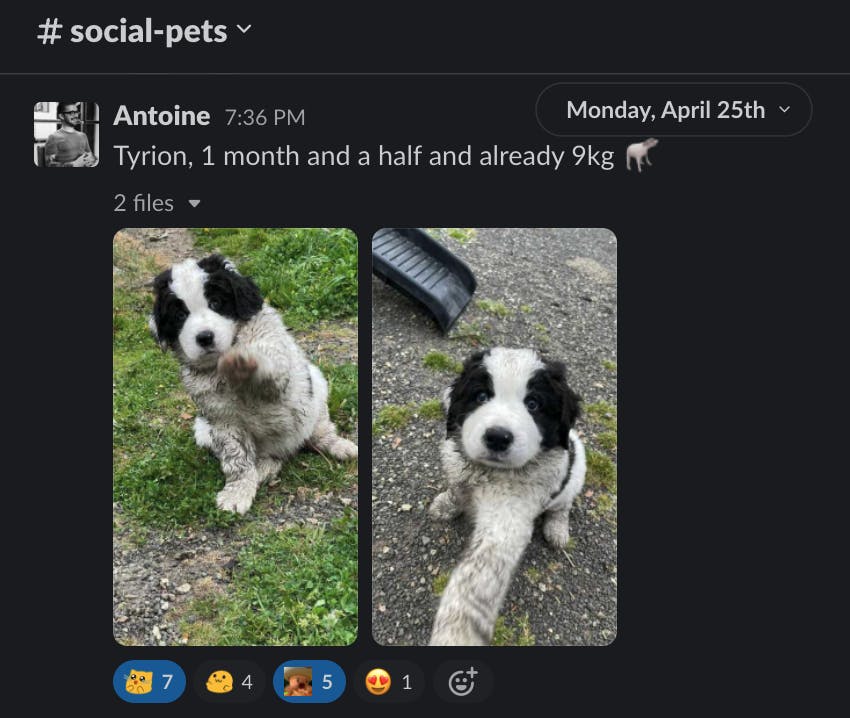 We organize a monthly virtual game night. This can be a virtual game such as Skribbl.io, or GarticPhone.com, but also a virtual escape room or a quiz.
We do weekly yoga sessions that anyone is welcome to whether they are a beginner or an expert. Cameras can be on or off, whatever each person is comfortable with.
We meet each other in person at our week-long company retreat twice a year. The focus of our company retreats is on spending time with each other and getting to know each other better. We aim to have a combination of presentations, workshops, and working time before lunch. After lunch, it's all about finding a balance between free time for people to do what they want - even if that is having some time for themselves - and team activities.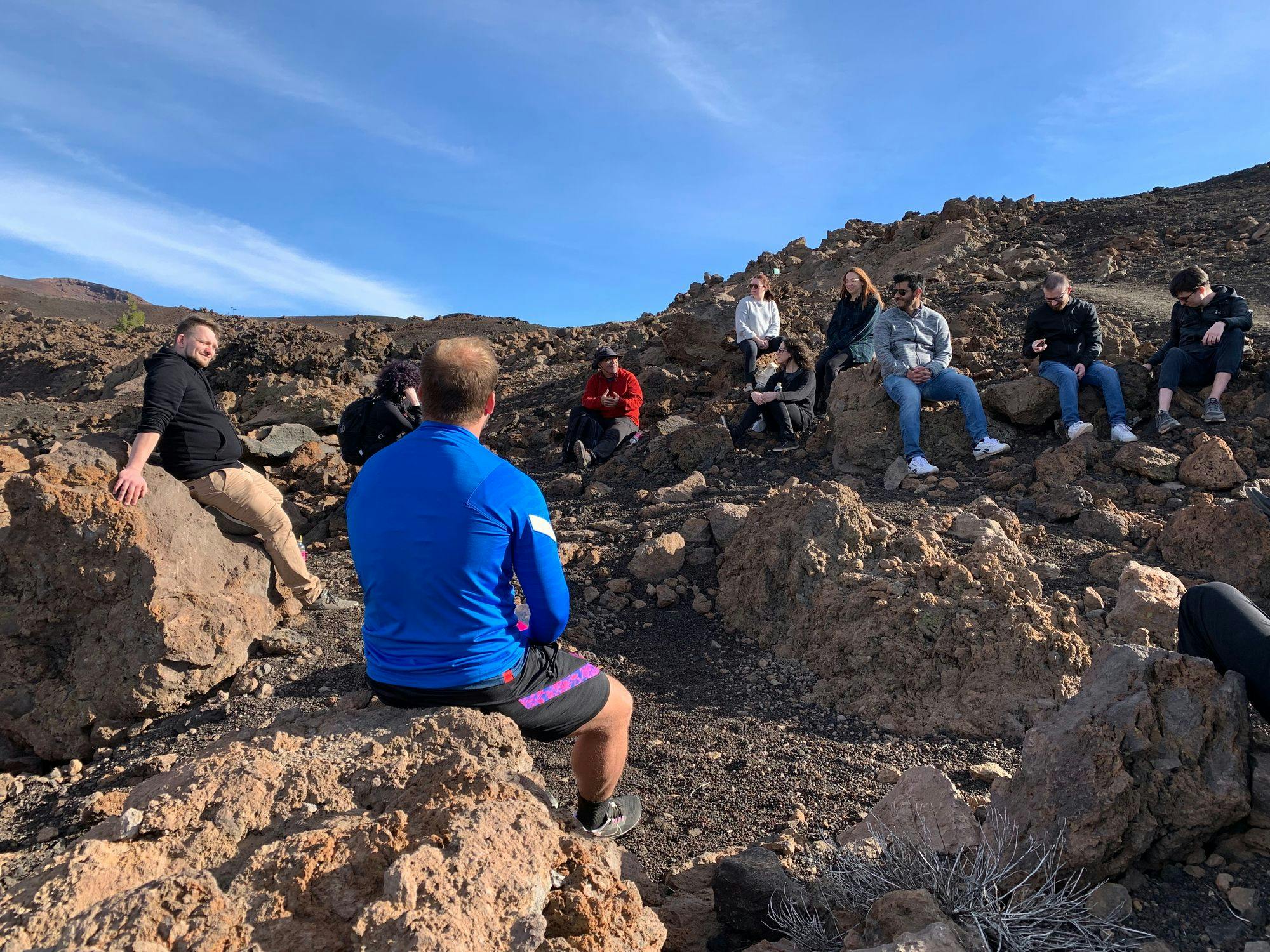 Our weekly kick-off meetings with the entire company include small talk, introduction of new joiners, announcements of promotions and anniversaries, and company updates.
Teams have their own weekly or bi-weekly meetings to make sure they stay organized, aligned and can tackle any issues or concerns that come up.
Managers have regular 1:1s with each of their team members. A big goal of these 1:1s is to get to know each other as people.
One way team members can use their $1,000 learning & visiting budget is to visit colleagues and work alongside them. By providing this budget, we want to encourage team members to be physically near a colleague if they're feeling isolated or need extra motivation.
Incorporate remote work into the company values and culture
As a fully remote company, we understand that we need to be explicit about our communication and how we work together. This can be found back in two of our values:
Value 1. "We are reliable and trustworthy." This first and foremost is about us as a company being reliable and trustworthy towards our clients as we are a reliability platform. But it is also about how we work together, how we take ownership of tasks, as well as how management trusts the team by default and empowers the people to own their work and take decisions as much as possible.
Value 2. "We assume good intentions." is especially important in an environment where we have fewer social cues. We expect everyone to listen and learn before they judge.
Our Employee Handbook together with our values represents our culture. Our Employee Handbook's intro is:
Checkly is a remote company. We have no HQ. We may have co-working spaces in cities around Europe. No one is expected to work regularly in an office. We encourage you to choose the work location of your choice. Some rules do apply...
After that intro, we dive deeper into:
core working hours and the expectations around core working hours
core tools that we use for smooth remote collaboration, and communication guidelines (such as written communication, communicating in public vs in DMs, meetings, and using the right channel for the right type of urgency)
additionally, the Employee Handbook also holds our perks and benefits, which include remote-specific policies such as a visiting budget, company retreats, co-working budget, etc.
When it comes to meetings, it's important for us to challenge ourselves to work as asynchronously as possible so that we have the space and energy to use sync for sessions that really benefit from human connection such as 1:1s, catch-ups, social events such as game nights, etc.
Parent-friendly work environment
We have flexible work hours. If someone needs to pick up their kid from school, go to the doctor, etc, they can. We expect communication about their availability, but we don't track anyone's hours. We trust our team to own their work schedule while staying in good communication with their team and manager.
On top of that, we introduced a paid parental leave policy in which we offer up to 14 weeks of paid leave for the birth parent, second parent, or adoptive parent.
When we set this policy, it was important for us that the policy is inclusive and generous. Our paid vacation policy is 27 days of paid vacation per year plus local public holidays.
Conclusion: People-first and culture-first to create a productive remote-first company
Checkly is probably the most productive and efficient company I've ever worked at.
Just looking at our Product Engineering team, we deploy up to 20 times per day to production on average. I strongly believe that to build a productive company, the People department together with management need to focus on the people and the culture so that the people can focus on their work and not be distracted by e.g. not knowing what's going on or worrying about their pay or parental leave.
There's much more we can and will do, our work is definitely not done. We're just getting started! 💪
Did you like what you read and want to join us? We're hiring! Check out our open positions here.