Table of contents
A while ago, we were looking for a new Senior Software Engineer to join our team. Let's talk some stats:
A total of 1,329 people applied.
We interviewed 37 candidates.
5 candidates went through to the second interview stage (async coding challenge + team interview).
3 candidates did the final interview.
We offered the job to 1 candidate who fortunately accepted the offer enthusiastically 30 days after we opened the role.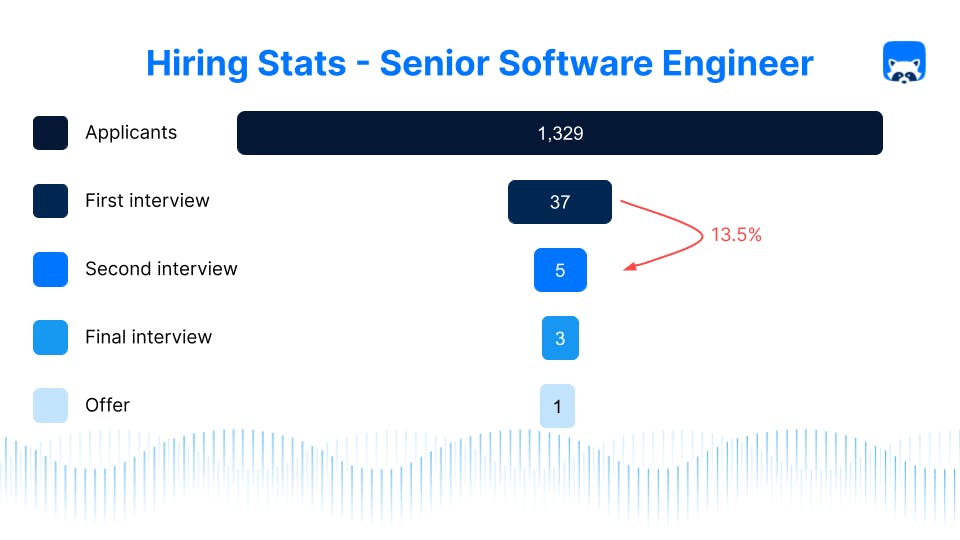 I had an interesting chat with Umut, the hiring manager, after only 13.5% of the candidates, who we invited for the first interview, made it to the second stage. So interesting, that we decided to turn the key points of our chat into a blog post about recurring behaviors during interviews that do not align with our expectations for a senior.
Let's get into it!
What we don't want:
A 10-15 minute speech walking us through your CV. Your interviewer will have read your CV before the interview, so a walkthrough takes away precious time for other questions or for diving deeper.
What we expect:
A brief introduction, including:
Who you are
What you are doing now (and ideally how it relates to what we're looking for)
Why you started looking for a different job
Why you're interested in joining us
(Maybe add a hobby for a personal touch)
What we don't want:
Lots of "we" statements and being too humble in interviews make it hard to assess a senior in terms of responsibilities.
What we expect:
Clarity around what you have accomplished and what you were responsible for. What we try to assess in interviews:
What were your responsibilities and achievements
Who set the targets
Who distributed the work
Share real examples to demonstrate and put some color to your statements and claims.
What we don't want:
Passiveness and the interviewer needing to pull for information from you, or the other extreme: going on long tangents.
What we expect:
A senior-level candidate needs to be able to jump in and drive the conversation. Don't be afraid to do some story telling, share battle stories, and show off your achievements.
It's OK to tell the interviewer
"I haven't interviewed in a long time now. Please feel free to jump in and redirect if needed."
"I don't know, but here's how I'd try to figure out the answer in the real world."
"I'm nervous/I'm not the most chatty person/This is not my comfortable space"
Remember, the interviewer is also just a person trying to find a great new team member!
What we don't want:
Talking about the result only and not sharing how you got there.
What we expect:
We need to know that you can build your own opinion and make a decision. It's important that you're not married to your own ideas and you can disagree and commit. It's also important that you can make informed decisions and talk through your thinking.
What we don't want:
Questions that are already answered in the job description.
What we expect:
Ask us (hard) questions about things that are important to you in a work environment so that you can assess us and make sure we're a company you'd actually want to join.
Some good questions that candidates have asked us:
What is your biggest problem right now?
What do you enjoy most about your work? / Why do you stay at Checkly?
How would you describe the culture?
How does the team deal with mistakes/incidents?
What does success in this role look like to you?
Why are you looking for a new [position]?
Is leadership on board with this role/function? / Does everyone agree this role is needed? 
Does everyone agree on how you define this role and the expectations of the function? 
What is the 30, 60, 90 day outlook for this role / How do the next 3 months look for the team? 
We have high expectations of our senior team members. They have to be able to identify what is important and what isn't, determine how to have an impact on our goals, propose solutions to problems, and be able to explain their proposals and thinking.
While not every company you'll interview with will have the same expectations, I hope that these tips will help you really show what you're made of and land a job that fits you perfectly!