Hello, SREs, DevOps engineers, and developers! 
We have some news! At Checkly, we understand the importance of proactive monitoring and quick incident resolution in maintaining your apps' reliability and performance. 
Have you heard of ilert? ilert is the incident response platform made for DevOps teams. It helps organizations efficiently respond to, communicate and resolve incidents in real-time by offering advanced alerting, on-call management, and status pages.
ilert's features make it a perfect Checkly partner. We are happy to announce ilert as a newly integrated alert channel. The new integration combines robust API & browser monitoring and efficient incident response, enabling you to streamline your entire incident management workflow.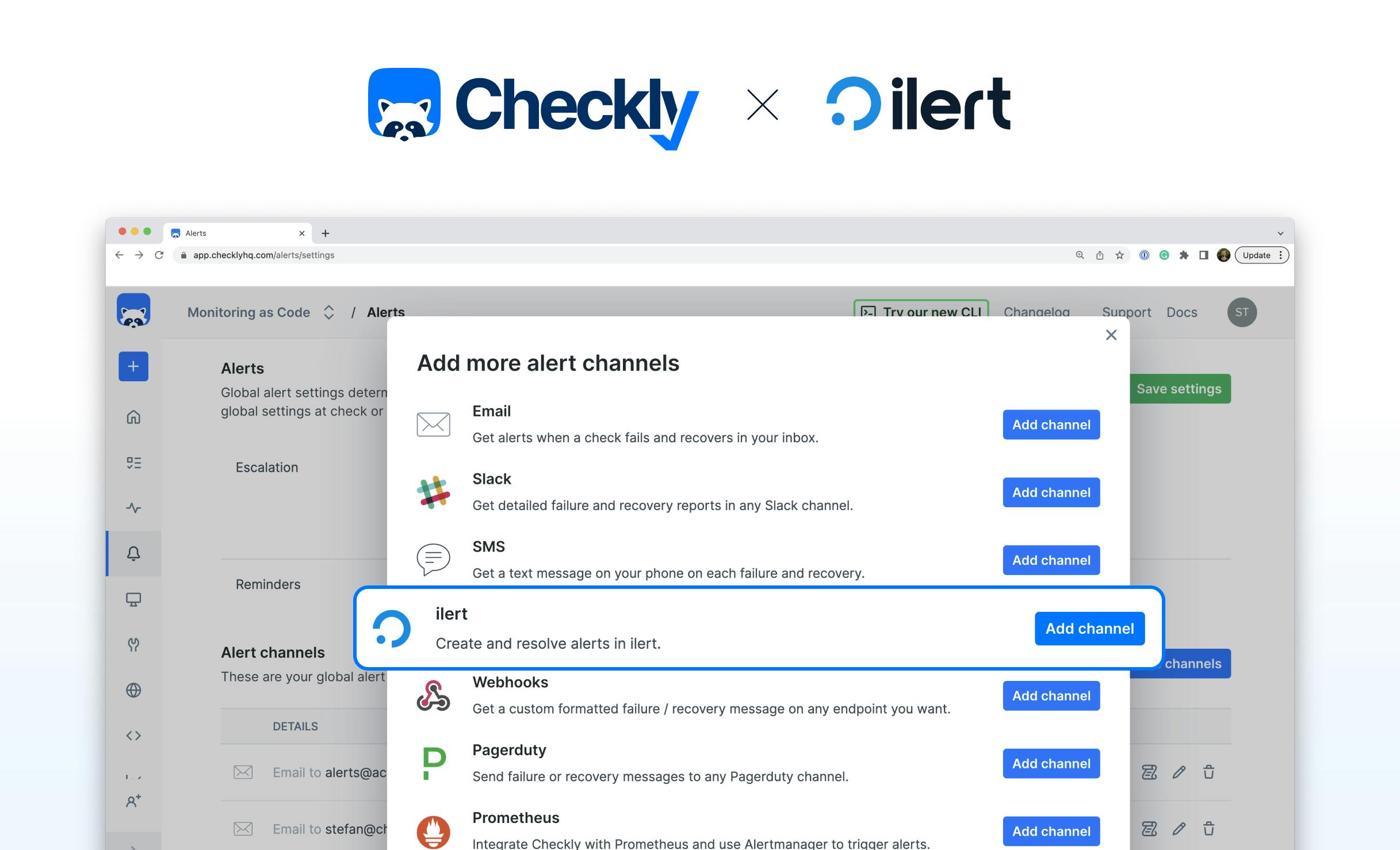 This powerful integration means that any issues detected by Checkly can now instantly trigger an alert in ilert, ensuring that the right people on your team are notified immediately on their preferred channel. 
Let's delve into some of the features you unlock by integrating Checkly with ilert.
Reliable Alerting Across Multiple Channels
With ilert, you get multiple alerting channels, including push notifications, international phone calls, SMS, WhatsApp, and Telegram. You can acknowledge or escalate alerts on every channel. Additionally, you can define notification rules based on alert priority or support hours, using more obtrusive alerting methods for urgent alerts and less intrusive methods otherwise.
Simplified On-Call Schedules and Escalations
Teams can easily create on-call schedules and swap shifts using the ilert mobile app. Automated escalations make sure that no critical alert is ever missed.
Automated Status Page Updates
When Checkly detects an issue with your website or API, ilert steps in to automatically update your status page in ilert. With Checkly and ilert working together, you can maintain transparency with your users about your service status in real-time, eliminating manual work and reducing communication overhead during incidents.
Performance Metrics and On-call reports
Track your incident response effectiveness with key metrics such as Mean Time to Acknowledge (MTTA) and Mean Time to Resolve (MTTR). Ilert also provides on-call reports that detail key metrics such as on-call time and time spent per incident, providing you with comprehensive insights into your team's performance and use the reports to calculate on-call compensation
By integrating Checkly with ilert, you're empowering your team with a powerful, seamless incident response platform. Respond faster, resolve quicker, and maintain a high level of service availability with Checkly and ilert.
Find a detailed getting started guide on our docs.